The Indian e-commerce market lost out to around 50 million customers in the last 12 months as they have stopped online shopping after making their sole purchase from the e-commerce website. A loss of around $50 billion has been triggered by the e-commerce market owing to loss of these consumers. As per the report, India who has been a centre for global investors in the e-commerce marketplace has been able to secure the trust of similar no. of users during this period.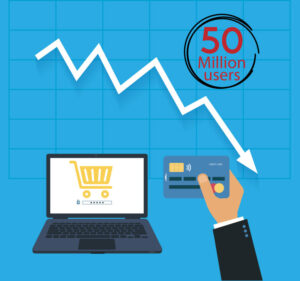 Also Read: Ambani takes on Indian E-commerce
The survey was conducted by the consultants Bain and company, Google and Omidyar Network over the course of 12 months. The data comprises of all the 50 million users being the first time users have opted for online shopping and discontinued it in this time period. The fetched data reveals that online shoppers who never made an attempt to online shopping belong to lower income groups which can be one of the reasons for dropout. The language barrier is also one of the main reason for the dropout of consumers as they are more comfortable in a vernacular language and most retail website are in English. Apart from these, many users are not also aware of the icons being used which causes a major bounce rate to the website which results in loss of consumers.
Also Read: Women entrepreneurs and need to go online
E-commerce in India is being considered as the future of the retail market and with the rise of technology it is being redefined every year and has been instrumental in reducing the void between online market and conventional market.  India is being considered to evolve as one of the leading e-commerce marketplaces due to the robust investment and rapid increase of the internet users. But now as a result of this contradictory revelation, it will be a challenging work to bring back those consumers again to connect to the e-commerce industry.
Also Read: Top categories in online retail in India
"Optimistically, it's a $50 billion of realisable e-commerce opportunity if we just get 50% of the 50 million back and get 40-50% of the next wave of 500 million internet users to transact online." Vikas Agnihotri, country director, sales, Google India. The interface is one of the crucial points which enables the consumer to connect online while it might take a few years to be regular at online shopping and converting a complaint into an opportunity to gain trust is also a major task added Vikas Agnihotri were some of his positive thoughts shared in the interview to Economic Times.
Also Read: GST Impacts Analysis and Outlines by Experts | FinPlus
In an interview to Economic times Omidyar Network India managing director, Roopa Kudva added that "it will be a long journey to get them back. We can't do version 1.0 of e-commerce for them." She also pointed out that social practices where men do not allow women the access to the internet in rural areas which cuts out the potential reach of customers.
India is currently behind Brazil and China in terms of penetration of internet which can also be considered while as the main reason. The user growth in India has been the highest with around 40 million new users on average per year since 2013. In terms of demographics, India lacks behind as more penetration of users has been registered from urban areas while in rural areas it is still on verge of improvement. The men to women ratio are also shocking as only 22% of women have internet access as compared to 33% of men users. Making revenue on a digital platform is a challenge as only 28% of the Indian are connected to the internet.
Also Read: New Update on GST for eCommerce Sellers.
There are several models in the e-commerce sector in which companies should follow in order to increase the consumer reach and provide them with an opportunity for a better experience which costs around $50 billion.
we at FinPlus one of the leading e-commerce company in India believes that it is an opportunity to connect those 50 million users back to the digital platform by taking deliberate steps towards it. Get all the solutions for your online business by partnering with FinPlus so that your opportunity gets accomplished.