The day when the leading news paper's front page is not talking about sale but seller!
So far, the front-page newspaper ads from Flipkart and Amazon and other online marketplaces always focused on discounts. The bigger the discount, the bigger the space on front page. But recently we witnessed the difference in the front-page of a leading daily.
Have a look at it.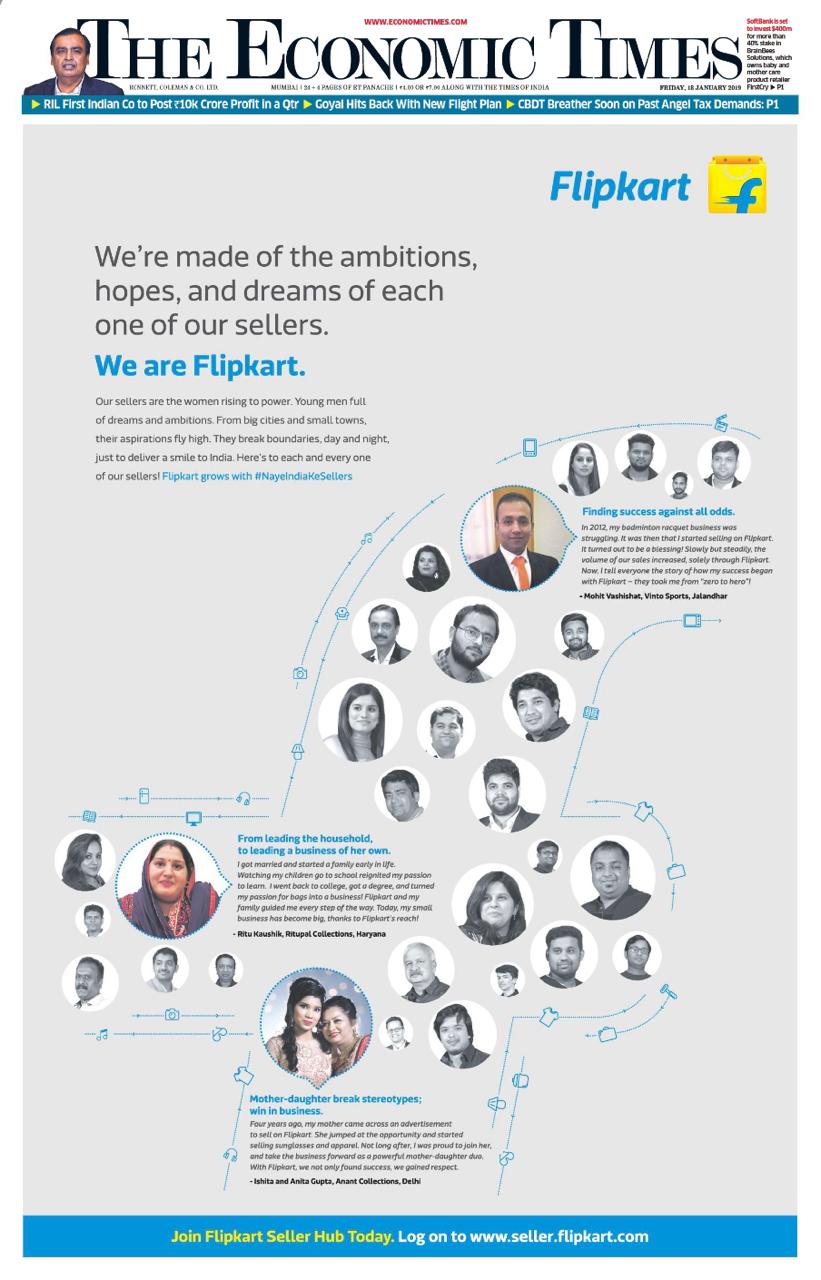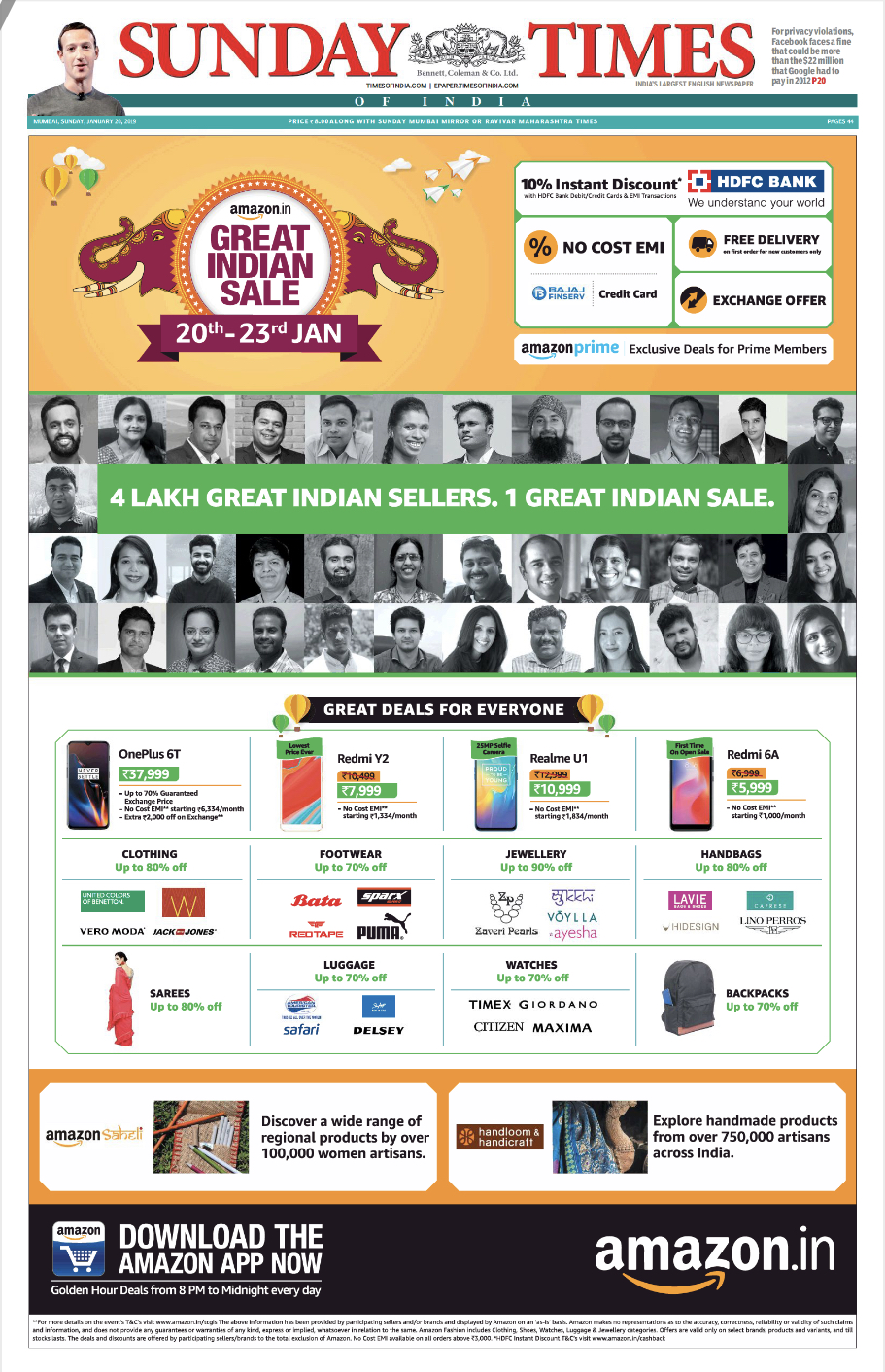 (Source: Economics Times, Jan 18th '2019 / Sunday Times, Jan 20th '2019)
It could be a coincidence that the change in approach came just a couple of days after the announcement by Mukesh Ambani on future plans for Reliance retail and Jio's special commerce plan. An announcement in which he clearly said that they would take on existing heavyweights Flipkart and Amazon.
Fact: The seller numbers, aimed by Ambani from one state ie. Gujarat is 4x then any of the marketplace's current total sellers. 12 Lacs estimated sellers from Gujarat v/s 4 Lac amazon seller nationwide.
It could also be possible due to current changes in eCommerce policies which aims to provide a level playing field to all e-tailers have made this shift in approach towards sellers by FDI-funded online marketplaces.
So far in eCommerce, the keyword has been GMV, not profitability. With Reliance stepping into the ring, the story could well become about the sellers. Reliance isn't just targeting the 12 lakh sellers in Gujarat, which Ambani referenced in his speech Vibrant Gujarat 2019. They're targeting the 3 crore sellers and shopkeepers retailing online. And they intend to be profitable.
As an Indian group, the FDI rules don't apply to Reliance. Ambani's plan to reach Small and Medium business owners via Reliance Retail and Reliance Jio is incomparable.
It would be interesting to see how the government and the policymakers are playing the vital role to provide the fairgrounds to small and medium businesses, as it's now Amazon v/s Walmart(Flipkart) v/s Reliance v/s SMEs.
The new eCommerce policy changes, which are effective from 1st of February 2019, will not only going to affect the Marketplaces but big brands who have been selling via SOR or outright models.
The new guidelines for E-commerce players say,
No exclusivity
No preferential treatment
No predatory pricing
No deep discounting
No loss funding
Yes to #Ecommerce
Which means Apana Time Aa Gaya E-tailers!!! Now it's not just about the buyers centric discount-driven eCommerce, led by big online sellers. It's a fair play for all the players in business with each means of online business. It's time to place your products in the online market and lay the foundation right to expand your business online and leverage the full potential of Digital India and 224 million Indian online buyers.
Start your Online Journey seamlessly with FinPlus eCommerce who not only helps you to kick start your online business, but will expand your brand in order to make it a profitable e-commerce model.
For more details and updates on e-commerce checkout www.finplus.co.in or subscribe to our WhatsApp updates.