Taking Business Online

#Digitalize your business
with your extended team of experts.
Taking Business Online!
FinPlus is a team of experts with specialisms across, Online business strategy, eCommerce marketplace management, digital marketing, web designing and technical development. At FinPlus Our goal is to deliver value to our partner Brands and become most trusted Digital partner.
Other than that we just crave some really good Coffee to get our heads working in the morning to connect offline sellers digitally and leverage its full potential. We are here to build RELATIONSHIP not just LINKS.
Statistics that proves Your Buyers are Online, Are You?
Internet Users (in mn) by 2022
Digital Buyers (in mn) by 2022
Social Media Users (in mn) by 2022
Retail eCommerce Sales ($ in mn) by 2022
New India – Digital India
With wave of #DigitalIndia, There are lots of opportunities for E-tailers in India to capitalize upon the online retail market with gradually growing internet penetration in India. As online has covered just 2.5% of offline retail market which is expected to rise to 5 % in 2020. It contributes US $17.8 billion as on 2017 which is estimated to reach US $ 28.30 billion by 2018.
The e-commerce market is expected to reach US$ 64 billion by 2020 and US$ 200 billion by 2026 from US$ 38.5 billion as of 2017.
Currently India has 481 million Internet users, which is expected to double by 2020. Also number of Online Buyers is expected to be around 329 million by 2020 from current 180 million+. These are staggering numbers which all the business should be aware of.
Number of Internet users in India is 481 million as of 2017, growing at a CAGR of approximately 26.3 per cent between 2007-2017. And the best part is these numbers contributes 295 million from urban India where as a good 186 million people are using internet from rural India too, which is increasing drastically with affordable access to technology to the remote India as well.
Yes, The Indian e-commerce industry is seeing an upward growth trajectory and is expected to surpass the US to become the second largest e-commerce market in the world by 2034.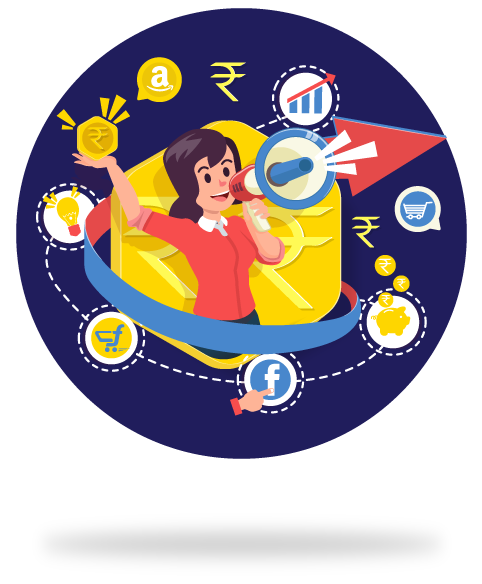 Well We are, with the power of 3 mix
Make your products visible to billions of buyer via Multiple eCommerce Marketplace.
Open your own webstore, A website which gives an Identity to your brand.
Reach your target group by being active on Social and Digital platforms like Facebook, Instagram and Google Search Engine.

Mrs. Manpreet
Western Wear
Owner
I was completely new to this business model and the team was there to guide me in every step, Now I have successfully established my brand on the marketplaces

Mr. Jayakumar
Anti Radiation Chipsets
Owner
FinPlus team helped me in achieving sales better than I expected, proactive and efficient.
Mr. Abdul Raheem
Men & Women Ethnic Wear
Owner
Since the time of association we've grown and the team has done a great job in managing our online business. I could focus more on my core operations and providing quality products for the customers.
We are the owners of the sphere, Of the seven stars and the Solar years, Of Ceaser's Hand and Plato's brain
Just Kidding!

We analyze the situation of your company to place ourselves in the correct scenario. And plan the strategy that will work.
We devise the right strategy that best suits your needs. And design an outline and develop your brand's identity.
We do not want to sell you our services, we want to give you what you need to see how you grow. We test our work (unlike any chef) and then deliver it freshly on your table.