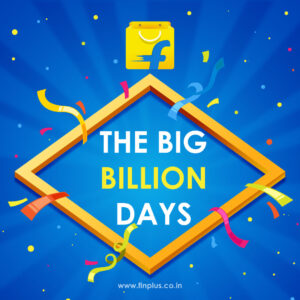 The festive season has already begun in the country and if you are one of them who is investing a lot of time in online shopping then this news is for you. Flipkart, one of the major e-commerce company in India is returning back with its "Big Billion Days" sale. With great offers and discounts on the varied range of products, it is being advertised as the biggest sale ever.
The fifth edition of the Big Billion Days will kickstart from October 10 till October 14 will see the introduction of new products across various categories with attractive discount offers for customers. Flipkart is also offering huge reductions on categories like mobile phones, TV & electronic appliances, fashion, furniture, personal care and many more to impress customers this festive season.
According to a report by research firm RedSeer, around 20 million people are believed to shop on various e-commerce marketplace during the festive season which could generate a sales of around USD 3 billion for giants like Flipkart and Amazon.
The leading e-commerce website, however, earlier hasn't released out a whole lot of information about the sale as of yet. But it did inform that for the Big Billion Days sale, Flipkart has collaborated with HDFC bank to provide unique debit and credit card discounts.  Like every time, HDFC card customers may be able to get around a 10 percent discount on purchasing the products on offer with their debit or credit cards. The info on the offers is still to be disclosed by the company. We are able to assume the e-commerce company to expose them in the end.
Also Read: Amazon vs Flipkart: The Battle of E-commerce This Festive Season
To announce the sale, Flipkart has organized a video to promote the Big Billion Days Sale. Inside the video, the e-trade giant claims that this time, the big billion days sale will be a lot bigger than in advance times. At some stage in the sale, we count on to see flat reductions on numerous products throughout classes inclusive of smartphones, smart speakers, and different patron electronics.
Flipkart is already up with a devoted page for the big billion days sale. The company has revealed that during the sale it'll be presenting big concession in credit and debit cards. As of now, Flipkart has already announced that they have made an alliance with HDFC bank. While there will offers from other banks also. The e-commerce giant has additionally announced that merchandise on offers to be had with no cost EMI choice and they will also avail gift cards to customers which they can redeem during the purchase of the products. Customers can enjoy the benefits of gift cards for a year from the date of issuing.
Within the video teaser released out by Flipkart, the e-commerce leader has revealed that this big billion days sale will be the biggest of all times. The teaser additionally exhibits that famous person like Amitabh Bachchan, Virat Kohli, and Deepika Padukone are going to be part of the big billion days sale. And the discounts on the products might be as mega and big as the recognition of those massive superstars, Flipkart claims.
Also Read:  Ebay Becomes "2GUD" For Online E-commerce Marketplace
"This year marks the fifth edition of TBBD and we are focused on making it the biggest and best one yet. After working closely with our sellers and brands over the last few months, we plan to deliver unparalleled, diverse, and affordable offerings to customers in every corner of India," Flipkart CEO Kalyan Krishnamurthy said.
Meanwhile, Flipkart's rival Amazon India hasn't yet declared the date for its "The Great Indian Festival", but it is expected that it will clash with the big billion days making their rivalry more fierce.
The campaign for Amazon India "Ab India ki Khushiyon ke Beech Budget Nahi Ayega" has already been unveiled by the company ahead of the festive sale.
ShopClues too has declared its festive season sale from October 10- November 7 during which the company will offer up to 80 percent discounts across categories like lifestyle, fashion accessories, home & kitchen appliances.
Flipkart is also planning to vigorously market the "Big Billion Days" sale which would be run across various social media platform, newspapers, TV & Radio with the alliance from online and offline partners.
In the course of the sale, we can anticipate a large discount on phones from all manufacturers, such as Apple. There could be large price discounts on iPhones. The newly launched iPhone XS & iPhone XS mega are already up for pre-orders in India on the Flipkart.
Flipkart is also looking forward to availing huge discounts on purchase of smartphones and other mobile devices. Apart from that, some smartphone brands who are associated with Flipkart are also keen on launching their new devices to be exclusively sold on the e-commerce website. Big billion days are the ideal time to upgrade your new mobile phone with a new one.
Also Read: Get your Business Online
The big billion days sale also provides an opportunity for sellers to list their products on the website and increase their sale this festive season. It also acts as a window for businesses or entrepreneurs who are looking to make a base in the online marketplace.
We at FinPlus, one of the leading e-commerce company can help you by guiding you to sell your products in the marketplace. We help businesses in inventory management, marketplace promotions, and digital branding all at one place so that your business does not suffer and you get the maximum benefits. Get all the solutions for your online business by partnering with FinPlus so that your opportunity gets accomplished.