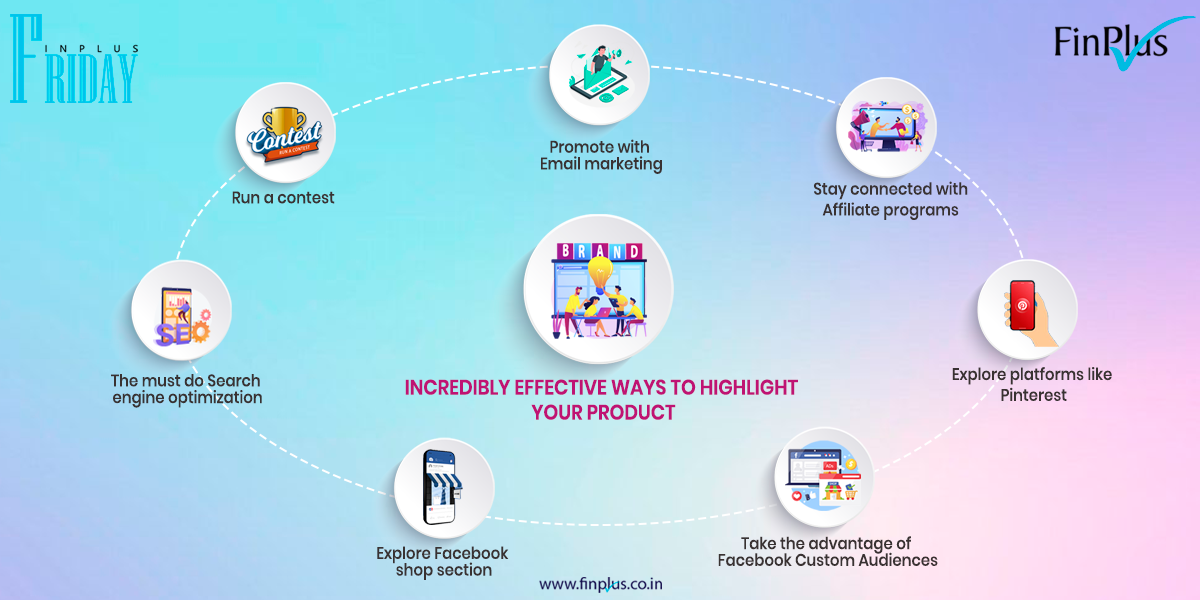 You started your business with noticing a trending commodity and then created your own online store. Hence what now? It is time to continue drawing clients to your online store before you are up and running and close the deal. Whether you are looking to make the first sell, it's always nice to discover further avenues to draw the new people and prospective customers to your page.
Let' take a look at 7 Creative and effective product marketing strategies for your online store!!
1. Promote with Email marketing
Email is one of the most powerful platforms for acquiring new client base. Although it may take a while for platforms to start delivering organic traffic, email marketing may continue to work instantly, including certain searches. That is why you should use email to help your online store. There is no use in spending any of your time typing and sending emails. Make it easy for yourself by setting up a range of automated email solutions designed to optimize your sales. Several options are available, such as
Emailing new subscribers and offering them an incentive to shop.
Emailing new customers a post-sale email to up sell and delight.
Emailing visitors who abandoned their cart and reminding them to finish their purchase.
2. Stay connected with Affiliate programs
If you are struggling to do business and you do not have the resources to hire customers or marketing help, simply add a referral service to your store. Affiliate marketing systems facilitate the promotion of a charge for the commodity by other organizations. You will pay them only if they make a profit.
Usually, affiliate services operate by generating a custom URL for and person marketing the goods. On social media, in a blog post reviewing your product, or even in a YouTube video where they show it off, they can share this connection. You will be able to watch who is driving sales for you via the personalized connections, so that you can pay them.
Always remember they are promoting your products for you, hence in a way they are handling a marketing function of your business. If you are not able provide best practices, they will make up their own.
3. Explore platforms like Pinterest
Pinterest is the place to be if you would like to determine whether to order products online. 93 percent of active pinner's say they use Pinterest to coordinate transactions. Not surprisingly, a lot of users use Pinterest to create wish lists. This makes it a great place to advertise products that are well illustrated, especially well-designed goods.
You can take your Pinterest marketing to the next level by allowing Buyable Pins if you manage a Shopify store that satisfies the eligibility criteria. This choice makes it easy for Pinners, thus making retailers sell more, to purchase items they see on Pinterest. You can enable Buyable Pins by adding the Pinterest Channel to your Shopify store. Once ready, all your product pins will include a buy button, no matter who pins it.
4. Take the advantage of Facebook Custom Audiences
Many users are on Facebook, and as an advertising platform, it provides much tailored possibilities for running paid ads. Custom markets, in particular, are a beneficial way of marketing a commodity. Visitors to the website or email users will advertise for Facebook Custom Viewers. These ads tend to be very powerful because you know something you are approaching and can tailor the ad accordingly.
5. Explore Facebook shop section
You can take your Facebook ads a bit further by adding the Facebook Shop Section to your Facebook profile. This choice makes it easy for users who find your products on Facebook to purchase them. If you have a Shopify store, incorporate Facebook as the sales site. You will be able to create your own shop tab on your Facebook profile where fans can read about your products, look at images, and click the checkout button to make an order.
6. The must do Search engine optimization
Although it takes a while to get started, search is one of the only ways to produce predictable and compounded web traffic.
A successful search approach involves a range of actions, from developing a keyword solution, to carrying out a more detailed granular assessment, to optimizing the platform's consistency and performance (e.g. category pages), to building connections back to your website. As I said, it's a big obstacle, but one that you can battle back in the background as your store continues to attract popularity.
7. Run a contest
Contests are a simple and inexpensive way to keep the products in front of a lot of people. By giving away your offer, you can guarantee your contest gets in front of the right kind of people: potential buyers. Most competitors are unsuccessful however; there are a few key errors to avoid while running a contest to market your brand. Be sure you are well thought out with the forum, the pacing, the messaging, and the steps people have to take to join the contest.
Are you all set and ready to promote?
Products don't just sell themselves; fortunately, there are many ways to promote a product in your store. Find the one you like from the list above and get started to promote your products.
Are you looking for promotion of your product that will help you survive the pandemic and acquire more customers? Get in touch with our experts today! Write to us at enquiry@finplus.co.in or call us at 022 6698 8952 Mobile: +91 932 690 6669