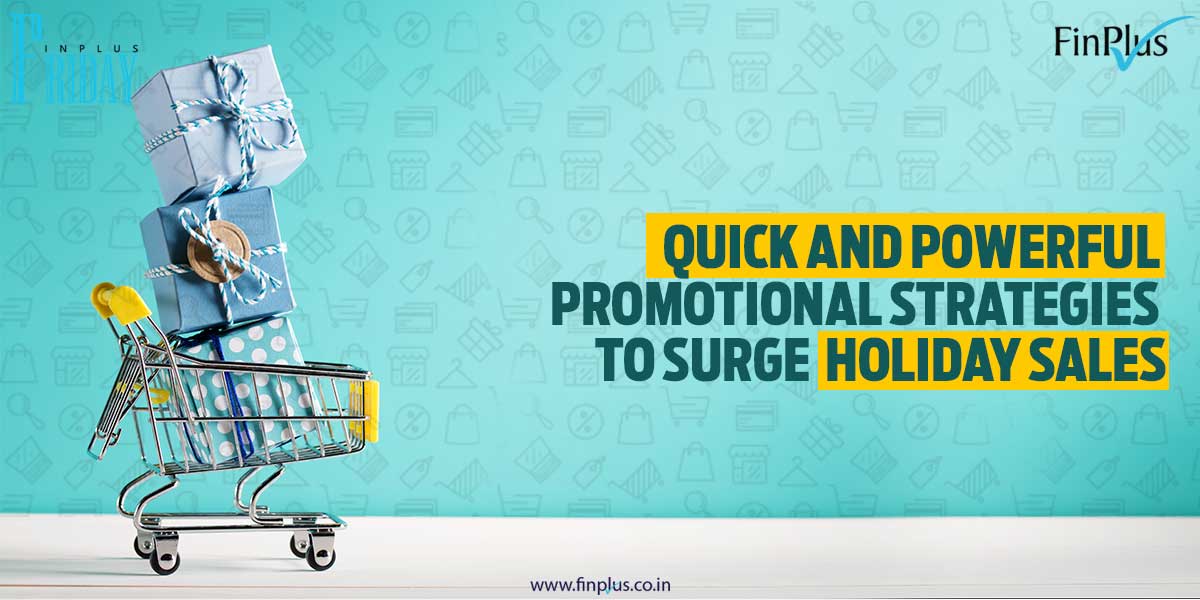 2020 has been a mixed bag of comfort, curiosity, anxiety and high hopes for the holiday season. Despite witnessing a drop in shopping across an array of product categories like footwear's, jewellery and formal wears, there was newly found affinity towards others like online groceries, PJs, and electronics. In Q2-Q3, the global retail sales volumes did climb up as we indulged into the holiday season. Between November 2020 and January 2021, retail sales are projected to increase by 1% to 1.5% (compared to the same period last year) and reach $1.15 billion. (Source Deloitte)
Increasing holiday sales can't be done overnight. You require a thorough and robust strategy to do that. Your holiday season can be euphoric if you thrive towards a carefully planned campaign strategy and consider the below mentioned promotional ways. All of them offer a good mix of investment versus revenue generation for small as well as bigger companies.
1. Run a giveaway that drives traffic to your site
The holiday season is all about giving/receiving gifts to each other and spreading joy. Giveaways are one of the popular promotional strategies running on Facebooks, Instagram etc. It is important to play along nicely with that feeling of giving. However, you can always add different twist on your promotional strategies. Show that your ecommerce or digital brand stands by the right values such as transparency, community support, sustainability and care for people by organising various creative contests around a good cause. For example:
Like to Win Contests: These are the simplest Instagram giveaways to run. It is because you are simply asking people to follow your account and like a post.
Tag a Friend: In this giveaway, followers are asked to leave a comment and tag a friend in your post for a chance to win.
Post a Picture (or Selfie): You can ask followers to post a picture relevant to your brand (such as using or wearing a product) along with a contest-specific hash tag. If you're not requiring selfies, you'll get better engagement from any selfie-averse followers.
Share This Post: Post an image specific to the contest and enter anyone who shares and tags the post with your #ContestHashtag in the giveaway.
2. Offer loyal customers with loyal discounts
Offers and discounts are among the top factors that influences holiday purchases. Considering that most consumers are still in the 'save, rather than spend' state of mind, most people will always look out for amazing deals. You can definitely give a try to some of the following ecommerce discount code ideas like
Send discounts for recently browsed, saved, or placed in the cart products.
Personalize discounts based on loyalty status.
Use location data to provide hyper-personalized local deals.
Offer tiered discounts for each repeat purchase.
3. Create time frames with SALE countdowns
Countdown timers bring out curiosity and anxiety feelings among consumers, compelling our brains to want the fleeing thing before it is gone. Here's how you can put that bit of knowledge into action:
Use countdown timers in email marketing to promote short-term discounts for high-value, signature products. Keeping these sales semi-private helps prevent brand dilution. At the same time, you can still get a boost in online sales.
Feature countdown banners on your website for the most in-demand products (or ones you wish to position as such). Placing a timer next to every product reminds shoppers that the time is running up soon so that they are more likely to proceed with the checkout (instead of hoarding products in the cart). Note: if a timer next to each product makes your website look messy, add a sticky header banner on top of your website.
4. Give first-time buyers a reason to return
With several social media platforms popping up, brands have become more accessible, resulting in a lot of consumers wanting to discover new brands. If customers come on your radar during holidays, direct some extra effort at entertaining and retaining them. After all, a 5% increase in customer retention can drive up profits by 25% to 95%. Great to hear that right!? So how can you lure new customers to return? Check out these bonus strategies.
Get them on your loyalty program: Loyalty programs help move customers up the buying ladder, increase repeat business, and foster deeper emotional connections. Prompt subscription during check-out and sweeten the deal for first-time shoppers with a quick discount for second purchase.
Pitch a subscription offer: Subscription boxes offer a recurring revenue stream — a nice-to-have option in times of uncertainty. Perhaps this is why 75% of DTC brands plan to have a subscription-based offering by 2023. Compound this with the fact that one in five consumers tried a new subscription box during the pandemic and the conclusion is rather clear: starting a subscription is good for ecommerce businesses and for their customers too.
Excel the product delivery: Sales force estimates that some 700 million gifts may not arrive on time this year due to congested last-mile delivery. At the same time, 56% of consumers say that they will not have repeat business with a retailer after a bad delivery experience. So test your shipping strategy before the holiday season to ensure that you can be there on time. Timely and positive delivery experience instils greater confidence in your brand and encourages repeat purchases.
5. Free shipping or special deliveries should be must
After the lockdown situation, the stores have reopened yet 77% of shoppers still want their online purchases delivered to their homes. Research also suggests that home-deliveries and store pick-ups will be in the highest demand all over the world. Henceforth offering your customers with free shipping services or special delivery offers will not only allow your brand to be stuck in consumers' mind but also spur consumer retention to all time high.
Final Thoughts: Taking your Business Online
We are your extended team of experts at FinPlus. We reduce the distance between your business reality and dream. Our team of innovative thinkers intricately examine your problem statement for creative digital solutions. We are not just an online facilitator. But, we privilege you with diversified strategies and we ensure to choose the best for you. If you have any queries, please don't hesitate to get in touch with us! We are more than happy to assist you.